Yooto'pea Golf LLC was founded in 2000 with the goal of providing timeless performance apparel to golfers around the globe regardless of background or skill set. Yooto'pea Golf specializes in timeless golf apparel and golf accessories. Our current offerings include men's golf polo shirts, graphic tee shirts, headwear, premium leather goods and golf accessories.
Our clothing is based on value, creativity and craftsmanship. Our apparel is a solid long term investment in timeless style. We understand that golfers rely on comfort and quality to perform well. We believe that golf is a lifetime activity that reaches out across generations.
I am a buyer and I want Yooto'pea Golf apparel in my store!
See our clothing and accessories in "real-life"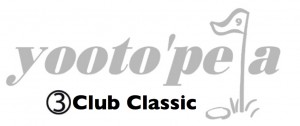 The 3 Club Classic is a 9 hole event. Participants are only allowed to register 3 clubs. The use of only three clubs forces golfers to be creative and invent shots, especially around the greens. This event puts a major emphasis on shot making, club selection and making the most out of limited resources.
Our event will be held at the Historic Carroll Park Golf Course a 9 hole course (2 par 3s & 7 par 4s) in Downtown Baltimore Maryland. Proceeds from the 3 Club Classic will go to the First Tee of Baltimore. Carroll Park Golf Course has significant ties to the great boxing legend Joe Louis. His son Joe Louis Barrow Jr. was instrumental in the creation of The First Tee of Baltimore.
If you have any questions about our event, please feel free to contact Norris Moore Jr., Tournament Director through email at moore@yootopeagolf.com