PRESS RELEASE
Chasing History – Nice and Easy
Baltimore MD, July 17, 2014:
Preparation doesn't assure victory, it assures confidence. ~ Amit Kalantri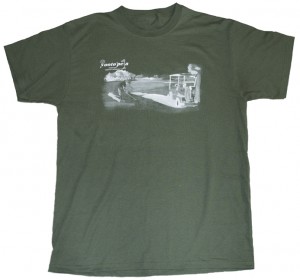 In celebration of the 104th Open Championship Yooto'pea Golf LLC releases 'Nice & Easy" another piece of its Range Gear golf apparel collection. Chasing the Claret Jug is an "Up Hill Battle" and one of golf's most difficult challenges. "Strange Things Happen" and preparation is critical for success in golf at any level. Having your rain gear, your club selection, judging the wind, to the demands of international travel will all have an effect on this major event. Greens in regulation will be critical to managing the historical Royal LiverPool. Despite the difficult odds, a golfers set- up, alignment, and a "Nice & Easy" follow through will be essential for success.
The formula for a 50/50 cotton blend tee remains consistent with other Range Gear releases. The full front sketch design is a water-color painting of a golfer in ideal position to score. Yooto'pea's focus continues be clothing that is functional for a healthy relationship with golf and stylish for navigating regular life. This garment will easily be a conversation piece wherever golfers travel. The "Nice & Easy" tee is sold for 15.00 US exclusively on yootopeagolf.com
Yooto'pea Golf is excited and in full scale preparation for its 1st tournament. The 3 Club Classic is a 9 hole event. Participants are only allowed to register 3 clubs. Three clubs forces golfers to be creative and invent shots, especially around the greens. This event puts a major emphasis on shot making, club selection and making the most out of limited resources. We are hoping to build a tradition that will last a lifetime for golfers. "Which three clubs do you trust?" Our event will be held August 23, 2014 at the historic Carroll Park Golf Course a 9 hole course in downtown Baltimore, Maryland. Proceeds from the 3 Club Classic will go to The First Tee of Baltimore. Carroll Park has significant ties to the GREAT boxing legend Mr. Joe Louis who participated in several outings held at the course. His son Joe Louis Barrow Jr. was instrumental in the creation of The First Tee Program.