Patchwork Plaid Gatsby
My Golf Clubs "A Love Story" Chapter 2
Yooto'pea Golf LLC releases their "Patchwork Plaid Gatsby" for the second major of the golf season. The US Open historically requires every facet of a golfer's game to be in harmony. Add traditional US Open course conditions with the links challenge of thick fescue grass, uneven fairways and pot bunkers of Chambers Bay. Golf fans are in store for a classic US Open.
The "Patchwork Plaid Gatsby" is a perfect harmony of color, pattern and style. It's a breathable cotton fabric with accents that compliment other pieces from Yooto'pea's collection. This hat is eye catching but functional, a real conversation piece. The "Patchwork Plaid" Gatsby certainly won't help you play better but golfers will feel good about it before, during and after their round.
Chapter 2 of "My Golf Clubs" is a reminder of the beautiful struggle the game of golf can be, 14 different clubs working to accomplish one goal. Bump & runs, knockdown drivers, accuracy, power and most importantly creativity will lead to success for this year's Open challenge.
"Unity is strength…when there is teamwork and collaboration, wonderful things can be achieved." Mattie Stepanek
2nd Annual 3 Club Classic
The 3 Club Classic is a 9 hole event. Participants are only allowed to register 3 clubs. Three clubs force golfers to be creative and invent shots especially around the greens. This event puts a major emphasis on shot making, club selection and making the most out of limited resources. We are hoping to build a tradition that will last a lifetime for golfers. "Which three clubs do you trust?" The dialogue and debate has been amazing. There are so many styles of play and ways to approach this challenge.
Our event will be held August 29, 2015 at the historic Carroll Park Golf Course. A 9 hole course located in downtown Baltimore, Maryland. Participants can register online at yootopeagolf.com or come down to the course and register in person. Be sure to follow us on social media because Team Yooto'pea will be sending out a days and times when representatives will be at the course.
Proceeds from the 3 Club Classic will go to the First Tee of Baltimore. Carroll Park has significant ties to the GREAT boxing legend Mr. Joe Louis who participated in several outings held at the course. His son Joe Louis Barrow Jr. was instrumental in the creation of The First Tee Golf program. Choose your 3 clubs wisely and come out to try something new for a great cause.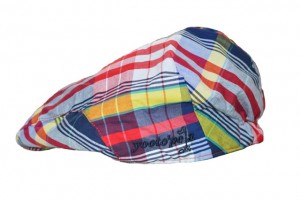 The "Gatsby" patchwork can be found exclusively at YootopeaGolf.com
"Gatsby" patchwork YouTube video: http://www.youtube.com/yootopea