Baltimore, MD July 13, 2016:
The chase for the Claret Jug heads to the Historical Royal Troon. The Open Championship requires its champions to be mentally and physically in tune with their golf swing. Yooto'pea Golf presents The PB&G ( Pars Birdies & Greens) leather ball marker. The PB&G is a timeless reminder of what it takes to make Birdies and most importantly save Par. Patience Focus & Commitment are essential elements needed to be crowned "The Champion Golfer of the Year".
The PB&G ball marker is the second release of Yooto'pea's leather accessory line. The PB&G is 1.5 inches across and made of Honey Brown Costa Rican leather. Our symbol for birdies and motto of "Patience Focus and Commitment" are hand stamped in. The PB&G has attention grabbing appeal on the green. When marking your ball take a deep breath, read the motto, go through your routine and execute.
"For this game you need, above all things, to be in a tranquil frame of mind." Harry Vardon
The PB&G will be sold exclusively at yootopeagolf.com and featured at the 3rd Annual 3 Club Classic.
Yooto'pea Golf is in full swing with it's preparation for the 3rd Annual 3 Club Classic
The 3 Club Classic is a 9 hole event. Participants are only allowed to register 3 clubs. Three clubs forces golfers to be creative and invent shots especially around the greens. This event puts a major emphasis on shot making, club selection and making the most out of limited resources.
We are hoping to build a tradition that will last a lifetime for golfers. "Which three clubs do you trust?" The dialogue and debate continues to be amazing. There are so many styles of play and ways to approach this challenge.
Our event will be held August 27, 2016 at the historic Carroll Park Golf Course. A 9 hole course located in downtown Baltimore, Maryland.
Participants can register online at yootopeagolf.com or come down to the course and register in person. Be sure to follow us on social media because Team Yooto'pea will be sending out days and times when representatives will be at the course.
Proceeds from the 3 Club Classic will go to The First Tee of Baltimore. Carroll Park has significant ties to the GREAT boxing legend Mr. Joe Louis who participated in several outings held at the course. His son Joe Louis Barrow Jr. was instrumental in the creation of The First Tee Golf program. Choose your 3 clubs wisely and come out to try something new for a great cause.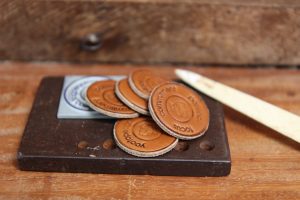 The "PB&G (Pars Birdies & Greens)" Ball Marker can be found exclusively at YootopeaGolf.com
Patience, Focus and a Commitment to getting better continues to be our motto.
Classic, stylish, long lasting materials built for performance & maintaining timeless fashion.
Our clothing is based on these principles.