Baltimore, MD June 16, 2016: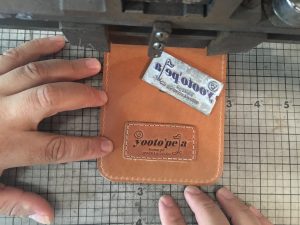 2015 has been an investment in travel and adventure for Yooto'pea Golf LLC. Hopes of pushing creative boundaries inspired a unique collaboration. We are always trying to evolve while maintaining our core design principles of value, creativity and craftsmanship. The beautiful country of Costa Rica has provided us with this year's inspiration. Costa Rica is vibrant, full of color, music, food, history and good people. It's been the perfect backdrop to add to our ongoing love affair with golf. This year's focus will be on our accessories. We needed something well thought out with timeless appeal. The artisan community of Costa Rica is talented and passionate especially in regards to leather.
We are proud to collaborate with designer, artist and entrepreneur Sofia Protti of Cueropapel & Tijera. Her craftsmanship and experience has been invaluable to this project. We hope to continue to build our relationship for years to come. The work of her and her team is timeless. Please check out her website cueropapelytijera.com or even better book a trip to San Jose, Costa Rica to see first-hand. The "Foxy Brown"will be the first release of our leather accessories. We refer to this piece as a progress holder instead of just a scorecard holder. Soft, supple, durable and most importantly timeless. 7x 4 1⁄4 in dimension with a Honey Brown tone. Foxy is a perfect fit for a golfer's back pocket or an executive's suit jacket.
While playing 18 holes your Foxy Brown can comfortably hold a scorecard, smart phone and a few dollars or credit card for the cart attendant.
Each piece will be sold exclusively at YootopeaGolf.com and featured at this year's " 3 Club Classic". The Foxy Brown is handmade by Costa Rican artisans. It's a timeless treasure made for a lifetime of enjoyment. A limited amount will be created due to the amount of work that goes into each piece. We advise for customers to not only admire visually but to touch and feel the materials and craftsmanship involved. Each piece we create is part of our "thank you" to golf for the life lessons the game has provided. The love affair continues…..
The 3rd Annual Club Classic is beginning to build momentum especially with earth thawing out and Spring finally here. The 3CC will always be held at Baltimore's Historic Carroll Park. 9 Holes + 3 Clubs = A Classic Carroll Park Golf Course. A 9 hole course located in downtown Baltimore, Maryland. Participants can register online at yootopeagolf.com or come down to the course and register in person. Be sure to follow us on social media because Team Yooto'pea will be sending out days and times when representatives will be at the course.
Proceeds from the 3 Club Classic will go to the First Tee of Baltimore. Choose your 3 clubs wisely and come out to try something new for a great cause.
The "Foxy Brown" Progress Holder can be found exclusively at YootopeaGolf.com. Patience, Focus and a Commitment to getting better continues to be our motto. Classic, stylish, long lasting materials built for performance & maintaining timeless fashion. Our clothing is based on these principles.